Learn & Explore - Z Series
Wide Prime: NIKKOR Z 35mm f/1.8 S with Nikon Z 6
Recommended NIKKOR Z Lenses for Broader Expression
Getting up close or far away, to shooting memorable moments and portraits—the possibilities are endless. Discover how the NIKKOR Z 35mm f/1.8 S is the perfect prime lens for a wedding photographer, and why she considers it her main workhorse in combination with the Nikon Z 6. (Photo and report by Jasmine A)
Point #1
Smooth bokeh, excellent background separation
Nikon Z 6/ NIKKOR Z 35mm f/1.8 S/ FL: 35mm/ Manual exposure (f/1.8, 1/1,000 sec)/ ISO 50/ WB: Auto
The NIKKOR Z 35mm f/1.8 S has a minimum focusing distance of 25 centimetres, which makes it great for capturing details up-close. When used with the aperture wide open at f/1.8, it allows me to direct the viewer's eye to the subject and its details, such as the wedding rings in this particular image. This lens is great for separating your subject from the background, and producing smooth, creamy bokeh. It is just a delightful piece of glass to use, especially when it comes to creating compelling imagery and visual storytelling.
Point #2
Wide angle, ideal for environmental portraits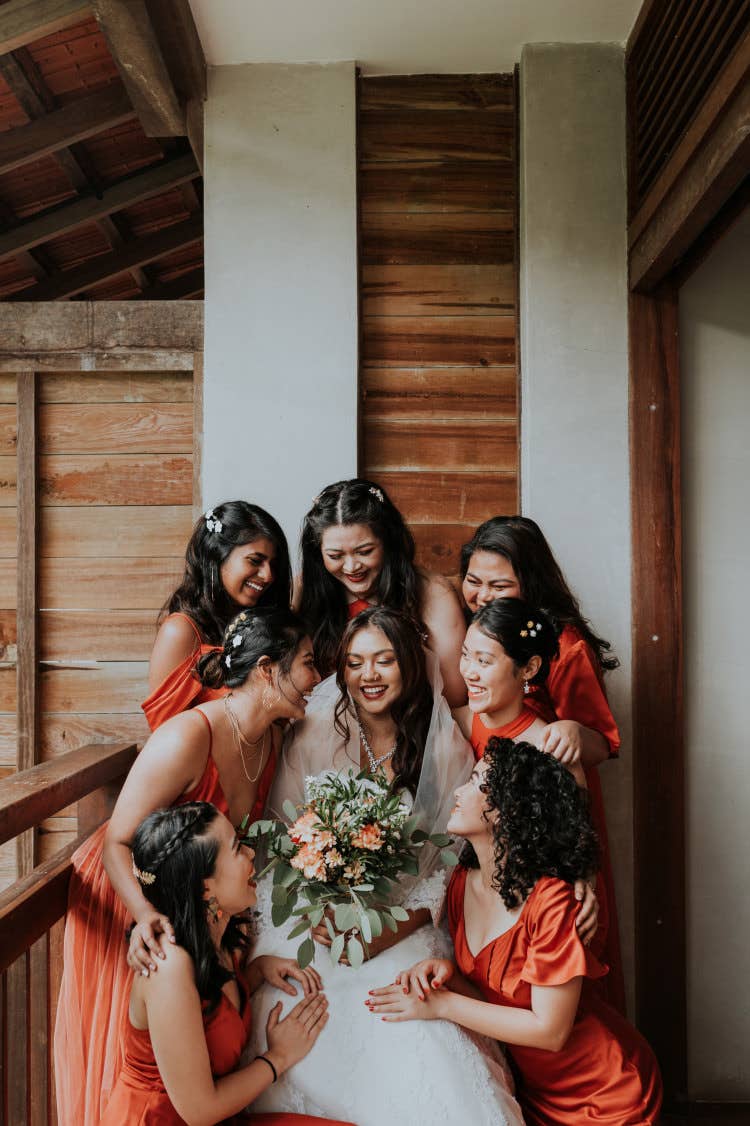 Nikon Z 6/ NIKKOR Z 35mm f/1.8 S/ FL: 35mm/ Manual exposure (f/4, 1/125 sec)/ ISO 400/ WB: Auto
Getting-ready-time is one of my favourite times of a wedding day to photograph and documenting brides with their loved ones are key, significant moments to have captured. The NIKKOR Z 35mm f/1.8 S is great for these situations, allowing me to take wider, environmental portraits. This frame was shot with the aperture narrowed down, and the resulting image shows little to no distortion, with the pillars at the edges of the frame depicted perfectly straight, and the gorgeous dresses of the bridesmaids as well as the ornate bouquet reproduced in minute detail, without any chromatic aberration. This lens has made it possible for me to tackle almost every visual moment of a wedding day whilst giving me the choice of having a shallow depth of field, to perfectly sharp, detailed images from the centre to the edges of the frame when I want or need it.
Versatile focal length, stellar image quality
One of the biggest things I have come to love about this 35mm lens is the creative freedom it gives me. With the NIKKOR Z 35mm f/1.8 S, I can get in close to my couples without worrying about any distortion around the edges of the frame, but I can also move myself back to capture the entire story with a wider composition without worrying about issues with corner-to-corner sharpness.
The NIKKOR Z 35mm f/1.8 S is compact in size and weighs just 370g. A typical wedding day for me lasts anywhere between 5 to 15 hours, and having a lightweight lens paired with a mirrorless camera makes moving about for work so much easier. I have personally come to really appreciate the weight reduction with everything in Nikon's new Z mount system, and the combination of these new bodies and lenses together look, feel and performs better than you would ever expect.
The Nikon Z 6 is an amazing mirrorless camera to begin with, but having it paired with the NIKKOR Z 35mm f/1.8 S brings out the best of the camera in regards to its imaging potential. Delivering stellar sharp images with little or no chromatic aberration, it is exceptional when shot at f/1.8, and the two together have been my main workhorse combination of choice ever since.
With exceptional image quality and sharpness whether shot wide open at f/1.8 or stopped down for more depth-of-field, this lens was undoubtedly engineered as the ideal companion for both the Nikon Z 7 and Z 6. It is a sturdy, robust, and well-built lens, yet compact and lightweight. If you are looking to get into the new Nikon mirrorless system, this is a great lens to start with. Whether you are a hobbyist or professional photographer, I am certain that the image and optic quality of this lens will make it a hit amongst Nikon Z series users of all photography interests.
Key specifications
Focal length when mounted onto Nikon Z 6: 35mm
Lens structure: 9 groups 11 elements
Minimum focusing distance: 0.25m
Maximum magnification: 0.19x
Filter diameter: φ62mm
Maximum diameter×Length: approx. φ73.0mm×86.0mm
Weight: approx. 370g
Jasmine A.
Passionate about documenting the human connection, Jasmine's love of photography started at the curious age of 13 and since then, she gradually developed her creative eye towards celebrating people. Now a wedding photographer by profession, her work revolves around beautiful interpretations of love, life and its dynamics; painting a story, showing a touch of vulnerability and yet completely authentic at the same time.